So it hasn't been quite that long since my last theme of the day, however it has been a while.With that being said I thought I would do a theme day about Holly Black since I've just read to books by her fairly recently. If you have read any thing by her I suggests you do. Holly Black is the type other author that put on you automatic book buy list.
Title:
The Darkest Part of the Forest
Author:
Holly Black
Children can have a cruel, absolute sense of justice. Children can kill a monster and feel quite proud of themselves. A girl can look at her brother and believe they're destined to be a knight and a bard who battle evil. She can believe she's found the thing she's been made for.
Hazel lives with her brother, Ben, in the strange town of Fairfold where humans and fae exist side by side. The faeries' seemingly harmless magic attracts tourists, but Hazel knows how dangerous they can be, and she knows how to stop them. Or she did, once.
At the center of it all, there is a glass coffin in the woods. It rests right on the ground and in it sleeps a boy with horns on his head and ears as pointed as knives. Hazel and Ben were both in love with him as children. The boy has slept there for generations, never waking.
Until one day, he does…
The Cover:
Not going to lie that cover is one part eerie as hell,one part totally gorgeous and completely eye catching.
My Thoughts:
The Darkest Part of The Forest was a wild ride from start to finish,I could not put the books down.At the end of the book I put it down and instantly wanted to reread it. There was a fairytale-like atmosphere throughout the whole thing that I really digged. The main character, Hazel, is a brave girl who tries to fight the evil fae with her brother and it's not really smooth sailing at all.I would definitetly recommend this book to everyone.
5/5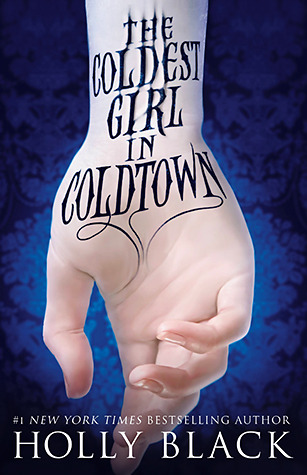 Title:
The Coldest Girl In Coldtown
Author:
Holly Black
Tana lives in a world where walled cities called Coldtowns exist. In them, quarantined monsters and humans mingle in a decadently bloody mix of predator and prey. The only problem is, once you pass through Coldtown's gates, you can never leave.
One morning, after a perfectly ordinary party, Tana wakes up surrounded by corpses. The only other survivors of this massacre are her exasperatingly endearing ex-boyfriend, infected and on the edge, and a mysterious boy burdened with a terrible secret. Shaken and determined, Tana enters a race against the clock to save the three of them the only way she knows how: by going straight to the wicked, opulent heart of Coldtown itself.
The Cover
: It's pretty simple,pretty creepy,and real eye catching. It truly fits with the story.
My Thoughts
:It's starts off with a bang and keeps on going.The Coldest Girl In ColdTown will keep you guessing as the characters deal with having to make some questionable choices.Despite starting off with a bang, the book is a bit slow at parts and kinda drags but like it definitely picks up speed after a while. Overall it wasn't a bad book, I definitely enjoyed reading it, but it wasn't one of my favorites.
2.5/5