.
Today theme of the day is Superheroes!!!


That right today's post is about Miler Morales, and Diana Prince, better known as Spider-Man and Wonder Woman!! I'm a huge fan of comic books, so the fact that a lot of DC and some marvel comics are being turned into middle grade or YA books has me super jazzed!
Title:
Miles Morales Spider-Man
Author:
Jason Reynelds
Publisher:
Marvel Press
"Everyone gets mad at hustlers, especially if you're on the victim side of the hustle. And Miles knew hustling was in his veins."
Miles Morales is just your average teenager. Dinner every Sunday with his parents, chilling out playing old-school video games with his best friend, Ganke, crushing on brainy, beautiful poet Alicia. He's even got a scholarship spot at the prestigious Brooklyn Visions Academy. Oh yeah, and he's Spider Man.
But lately, Miles's spidey-sense has been on the fritz. When a misunderstanding leads to his suspension from school, Miles begins to question his abilities. After all, his dad and uncle were Brooklyn jack-boys with criminal records. Maybe kids like Miles aren't meant to be superheroes. Maybe Miles should take his dad's advice and focus on saving himself.
As Miles tries to get his school life back on track, he can't shake the vivid nightmares that continue to haunt him. Nor can he avoid the relentless buzz of his spidey-sense every day in history class, amidst his teacher's lectures on the historical "benefits" of slavery and the importance of the modern-day prison system. But after his scholarship is threatened, Miles uncovers a chilling plot, one that puts his friends, his neighborhood, and himself at risk. It's time for Miles to suit up.
The Cover:
What I love about the cover for Miles Morales Spider-Man is that you see his face and it's not just him in his suit. Another thing I love is that the cover just screams comic book, and it's super vibrant.
My Thoughts
: Honestly I'm a bit on the fence about how I feel about this book.It might just because I'm an adult and this is a middle grade book but I didn't connect at all with the book.I thought a lot was rushed and the backstory was bare bones. Objectively it was a good book, and the villain was pretty inspired. I just wish the reader got to know more about Miles's uncle, and what happened between them.
2.5/5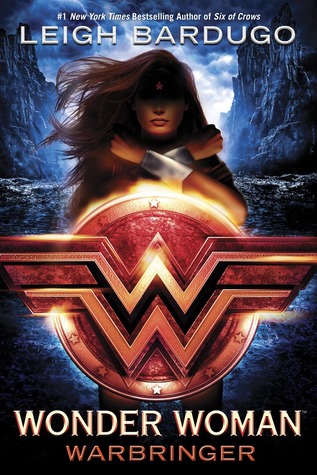 Title:
Wonder Woman :WarBringer
Author
:
Leigh Bardugo
Publisher:
Random House Children's Books
Princess Diana longs to prove herself to her legendary warrior sisters. But when the opportunity finally comes, she throws away her chance at glory and breaks Amazon law—risking exile—to save a mortal. Diana will soon learn that she has rescued no ordinary girl, and that with this single brave act, she may have doomed the world.
Daughter of death.
Alia Keralis just wanted to escape her overprotective brother with a semester at sea. She doesn't know she is being hunted by people who think her very existence could spark a world war. When a bomb detonates aboard her ship, Alia is rescued by a mysterious girl of extraordinary strength and forced to confront a horrible truth: Alia is a Warbringer—a direct descendant of the infamous Helen of Troy, fated to bring about an age of bloodshed and misery.
Together.
Two girls will face an army of enemies—mortal and divine—determined to either destroy or possess the Warbringer. Tested beyond the bounds of their abilities, Diana and Alia must find a way to unleash hidden strengths and forge an unlikely alliance. Because if they have any hope of saving both their worlds, they will have to stand side by side against the tide of war.
The Cover:
That is absolutely lovely. It has the comic book feel, and I like the fact the everything in the background is dark, and eerie while the shield looks like it's glowing.
My Thoughts:
I could probably rant for hours about my thought on Wonder Women Warbringer but I'll keep it short. This book is more than an origin story it's a story about family, friendship and becoming who you were always meant to be.
5/5